Introducing the New Kia Seltos
Available Now in Dartmouth, MA
Kia is taking craftmanship to new heights presenting the new Kia Seltos in 2020. The versatile features include everything Swansea and Raynham drivers could require out of a small SUV. Depend on the durability of this vehicle when harsh circumstances on the road present itself self, and you can do so in style. The Kia Seltos comes in many different possible exterior colors that you can choose from, such as Black Cherry, Snow White Pearl, Steel Gray, Mars Orange, and Starbright Yellow. So, if you are unhappy with the default color, you can easily choose from a wide range of colors to fit your persona. This vehicle will be available at our dealership in Dartmouth.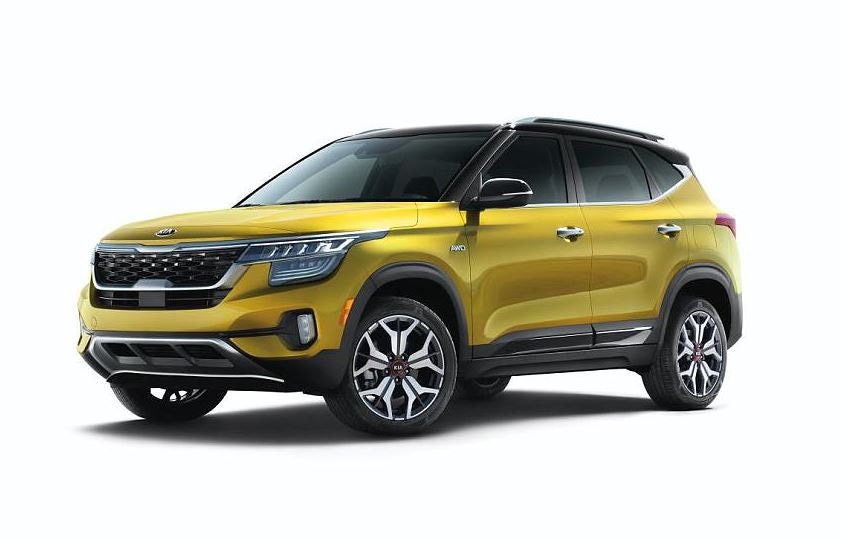 The advance specs make it easier for you to operate the Seltos. It comes with an 8.0-inch touchscreen display with a rear camera, remote keyless entry, and a dual-level cargo floor.
The Kia Seltos is sporting a turbocharged 2.0-liter four-cylinder engine with 147 horsepower. This gives the Seltos the power and efficiency it needs to conquer tough obstacles on the road. The all-wheel-drive option allows you to control the power of this vehicle further. It enhances agility and the ability to make precise turns, even in harsh road conditions. Now if you combine all-wheel-drive and the power underneath the hood, you get a small SUV that is unstoppable.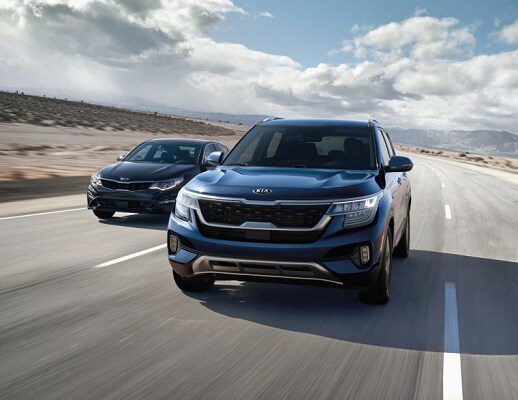 The interior of the Kia Seltos was made comfortable and spacious for the driver and passengers' enjoyment. The up-scale cloth seat trim inspires a luxurious feel to the Kia Seltos.
Now you know how powerful the Seltos is on the roads around Bourne. But, with great power comes great responsibility. Drive responsibly by taking advantage of the advanced driving assistance technology that the Kia Seltos has to offer. In a variety of circumstances, this feature detects when a vehicle is in a certain range within your blind spot and will automatically pump the brakes according to your situation. Now you can keep your eyes ahead of the road and still be fully aware of your blind spots. Driving assistance also includes lane-keeping assistance. If the vehicle is detected drifting outside of its lane, by enabling this option, lane-keeping will intervene by steering you back into the correct lane. Now you can hit the road with confidence knowing that your vehicle is on the alert for the things that you cannot see.
This spacious SUV is perfect for those who love to travel. With 60/40 spit-rear seats, it will be easy to carry everything you need to bring with you on your journey.
The exterior technology on the Kia Seltos evolved to a higher level. some of these features are rear privacy glass, heated rear glass with a timer, locking fuel-filler door, and the metal-look skid plates.
If you would like to come test drive the new Kia Seltos near Plymouth today, Contact Kia of Dartmouth dealership for more information.
Hours
Monday

9:00am - 8:00pm

Tuesday

9:00am - 8:00pm

Wednesday

9:00am - 8:00pm

Thursday

9:00am - 8:00pm

Friday

9:00am - 6:00pm

Saturday

9:00am - 6:00pm

Sunday

11:00am - 5:00pm
See All Department Hours
Dealership Hours
Monday

9:00am - 8:00pm

Tuesday

9:00am - 8:00pm

Wednesday

9:00am - 8:00pm

Thursday

9:00am - 8:00pm

Friday

9:00am - 6:00pm

Saturday

9:00am - 6:00pm

Sunday

11:00am - 5:00pm
Parts Dept. Hours
Monday

8:00AM-7:00PM

Tuesday

8:00AM-5:00PM

Wednesday

8:00AM-7:00PM

Thursday

8:00AM-5:00PM

Friday

8:00AM-5:00PM

Saturday

8:00AM-3:00PM

Sunday

Closed
Service Dept. Hours
Monday

8:00AM-7:00PM

Tuesday

8:00AM-5:00PM

Wednesday

8:00AM-7:00PM

Thursday

8:00AM-5:00PM

Friday

8:00AM-5:00PM

Saturday

8:00AM-3:00PM

Sunday

Closed